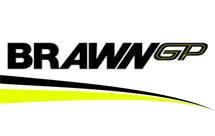 Ross Brawn tar över Hondas F1-stall. Det har varit känt ett tag, men nu är det officiellt med pressmeddelanden och allt. Mer lär komma under dagen. Han har redan snickrat på en logga som jag hittade på realhondaf1.com (som ju alltid var en bra fan-site för Honda, och som nu reggat realbrawngp.com ser jag).
Mer spännande är att det redan finns en officiell hemsida! Adressen är http://brawngp.com. Inte så mycket att göra där ännu, men oj så spännande sånt är att följa.. Här är det officiella pressmeddelandet som kom inatt från Honda Motor Co;
TOKYO, Japan, March 6, 2009 – Honda Motor Co., Ltd. has announced the sale of the Honda Racing F1 Team (HRF1) to Ross Brawn, the former Team Principal of Honda Racing F1 Team.
The entire shares of the HRF1, held by Honda GP Holdings Ltd., the UK-based holding company for HRF1 that managed all operations of Honda's Formula One racing, were sold to Ross Brawn. As a result of this sale, the team ownership has transferred to Mr. Brawn, who plans to have the new team compete for this year's FIA Formula One World Championship.
Hiroshi Oshima, Managing Officer of Honda Motor Co., Ltd. responsible for Corporate Communications and Motor Sports: "Since announcing our withdrawal from Formula One racing on December 5 of last year, we have conducted various studies and discussions so that the team can continue its activities as a new team. We are very pleased that we could sell the team to Ross Brawn, with whom we have been partaking in the challenges of F1 competition, and are grateful for his decision. We offer our sincerest wishes for the new team which will be led by Ross."
Det hela betyder ju också att Hondas F1-webb som inte alls var dålig har gått i graven; http://www.hondaracingf1.com